Welcome to JK 24 SEVEN
A family owned convenience store with 3 locations in Regina open 24 hours a day.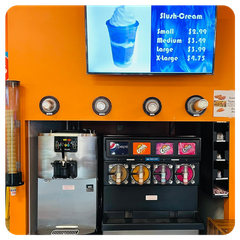 Find your Soft Serve Slush Cream Here!
JK 24 SEVEN is one of the only stores in Regina where you can find the famous Slush Cream come check out our rotating flavors!
Our Story
My family and I joined the Regina community in 2011 and have been active in the community since then. In 2017 we opened our family owned business.
In the year 2020, on the 9th of September launched our family owned brand "JK 24 Seven". The letters J & K represents our daughters. We are proud to be a locally owned family business in the wonderful town of Regina. We are now going to open our second location and expect to be operational by the 1st of August 2021.
We Always Have Special Deals!
Check here for our current specials! We frequently offer coupons and special game day deals for the Saskatchewan Roughriders home games.
230 Winnipeg St. North, Regina SK S4R8K1 306-559-1990
178 Albert St. Regina SK S4R2N2 306-559-1717
4900 Dewdney Ave. Regina, SK 306-559-0616